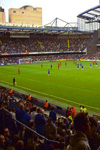 Chelsea FC - Everton
ZON, 19 MEI 2013, Stamford Bridge
Prijs vanaf € 258.60
Info
* De datum en tijd van de wedstrijd zal 5-30 dagen voor de match worden bevestigd. Als je twijfelt, bekijkt dan de officiële wedstrijd van de spelende club. Veranderingen van data van wedstrijden zijn buiten onze macht om en we vragen je jezelf hiervan bewust te zijn wanneer je de reisplannen opstelt!
* Je zult NOOIT enkele stoelen krijgen. Te allen tijde zullen wij ervoor zorgen dat je stoelen naast of recht voor/achter je vrienden zult krijgen. Dit garanderen wij naar jou toe!
* Je zult altijd plekken krijgen tussen de thuissupporters of in een neutrale zone.
* Wanneer je de boeking hebt afgerond zullen de bevestiging en e-tickets meteen naar jouw e-mailadres verstuurd worden.
* Alle informatie met betrekking tot het ophalen of laten bezorgen van de originele wedstrijdkaarten staat geschreven op het e-ticket.
* We raden je ten zeerste aan om zorgvuldig de voorwaarden voor het boeken van voetbaltickets te lezen!

Hieronder kan je meer lezen over de procedure van zitplaatsen kiezen en de categorieën die beschikbaar zijn voor deze wedstrijd.
Categorie
Stamford Bridge : Onze biljetten zijn bij West Upper of East Upper(lange zijde), tenzij U anders wordt geinformeerd.
OBS: BLUE DINNER TICKET / TEA BAR: Is inclusief een lunch/diner in Stamford Bridge / Chelsea Complex VÓÓR de wedstrijd. Er wordt geopend voor de lunch/diner 2 uur vóór de wedstrijd. De biljetten zijn op West Upper Tier of East Upper Tier! In de prijs is er geen transport / hotel ingesloten!

For Champions League we sell 'Long Side Tickets incl. buffet without drinks':
Long side tickets + Pre-match 3 course hot and cold buffet served in Stadium Complex + Cash bar(You have to pay for all you drink). No opposition shirts are permitted.

For some matches, you can book 'SHORT SIDE TICKETS IN AWAY SIDE SECTION'. If you do you are not allowed - under any circumstances – to wear any Chelsea shirts, scarfs or colors. Please show in neutral clothes

POWERED BY TRAVEL CONNECTION
Hotel
For Chelsea matches, we do sell West Stand Tickets included 2 nights(Saturday to Monday) or 3 nights(Friday to Monday) in one of the following hotels:

Royal National Hotel(**): Central London's largest hotel with 1630 rooms located near Russel Square. The rooms are basic but include all the necessary amenities. Free WiFi in the lobby. Breakfast is included in the price.

Kensington Close Hotel(****): Perfectly located near the shops of High Street Kensington. The hotel has a beautiful private garden, health club, spa and swimming pool. WiFi in all room(not free). Breakfast is included in the price.

Cumberland Hotel(****): Great hotel perfectly located near Oxford Street and Marble Arch. Cumberland is a modern and artsy hotel. Free WiFi at the hotel and in the rooms. Breakfast is included in the price.

Here you can book Twin rooms or Tripple Rooms.

Sometimes, but very seldom, we are advised that we need to change a hotel after the booking is confirmed. If this happens, we will always confirm a hotel of similar standard as the one you have booked, or better!

Your soccer tickets will be delivered to you when you check in at the hotel!

Like all booking of football tickets, you cannot change nor cancel football and hotel packages after you have confirmed and paid your booking!
Vorige matches
Chelsea FC vs Everton, ZAT, 05 NOV 2016
Chelsea FC vs Everton, ZAT, 16 JAN 2016
Chelsea FC vs Everton, WOE, 11 FEB 2015
Chelsea FC vs Everton, ZAT, 22 FEB 2014
Chelsea FC vs Everton, ZON, 19 MEI 2013
Chelsea FC vs Everton, ZAT, 15 OCT 2011
Chelsea FC vs Everton, ZAT, 04 DEC 2010 of ZON, 05 DEC 2010
Chelsea FC vs Everton, ZAT, 12 DEC 2009 of ZON, 13 DEC 2009