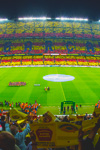 FC Barcelona - Atletico Madrid Champions League
DIN, 01 APR 2014, Camp Nou
Prijs vanaf € 132.00
Info
* De datum en tijd van de wedstrijd zal 5-30 dagen voor de match worden bevestigd. Als je twijfelt, bekijkt dan de officiële wedstrijd van de spelende club. Veranderingen van data van wedstrijden zijn buiten onze macht om en we vragen je jezelf hiervan bewust te zijn wanneer je de reisplannen opstelt!
* Je zult NOOIT enkele stoelen krijgen. Te allen tijde zullen wij ervoor zorgen dat je stoelen naast of recht voor/achter je vrienden zult krijgen. Dit garanderen wij naar jou toe!
* Je zult altijd plekken krijgen tussen de thuissupporters of in een neutrale zone.
* Wanneer je de boeking hebt afgerond zullen de bevestiging en e-tickets meteen naar jouw e-mailadres verstuurd worden.
* Alle informatie met betrekking tot het ophalen of laten bezorgen van de originele wedstrijdkaarten staat geschreven op het e-ticket.
* We raden je ten zeerste aan om zorgvuldig de voorwaarden voor het boeken van voetbaltickets te lezen!

Hieronder kan je meer lezen over de procedure van zitplaatsen kiezen en de categorieën die beschikbaar zijn voor deze wedstrijd.
Categorie
CATEGORY VIP PLAYERS ZONE:
In de VIP Players Zone Categorie is er toegang tot de Directors Lounge waar er drinks worden geserveerd vóór en na de wedstrijd plus canapees.
CATEGORY VIP BALCONY Long Side & Short Side:
In de VIP Balcony Categorie is er toegang tot de Berlin Lounge waar er drinks worden geserveerd vóór en na de wedstrijd plus canapees.
NB: Bestelt U VIP Players Zone of VIP Balcony tickets is er dress code, dwz. U mag NIET komen in jeans, shorts, FC Barcelona truien, gummischoenen enz. Mooie kledij wordt verlangd!
CATEGORY 1 PREMIUM:
"Tribuna" central, 1st or 2nd ring
CATEGORY 1:
"Tribuna", 1st or 2nd ring on the sides, or 3rd ring
"Lateral" central, 1st or 2nd ring
CATEGORY 2:
"Corner", 1st or 2nd ring
"Lateral" Lower, 3rd ring
CATEGORY 3:
"Corner" Lower, 3rd ring
CATEGORY 4:
"Gol", 1st or 2nd ring. Some category 4 seats might have partly restricted or restricted view of the pitch because of the fence, the goal and/or cameras.
CATEGORY 5*:
"Corner" Upper, 3rd ring
"Lateral" Upper, 3rd ring
CATEGORY 6*:
"Gol" 3rd ring
*For Category 5 and 6 tickets some seats can have restricted views of the pitch and all seats are allocated high up on Camp Nou.

All football tickets are included a round trip metro ticket to go from Barcelona city to the Camp Nou stadium.

SIGHTSEEING Camp Nou and Museum Tour :
This is an entrance ticket for a tour of FC Barcelona's world famous stadium Camp Nou. The tour you do on your own, with a English speaking head set guide. You will among many exciting things see the changing groom for the opponent team, the press room, the stands and you will be so near the field and the benches that you can almost touch them! Along the tour there will be many photo opportunities. The tour terminates at the FC Barcelona Museum where you can see many of the trophies the club has won during the years. Hereafter you can go straight to the Official Megastore where you can buy all sorts of souvenirs, scarfs and you personal FC Barcelona jersey with your own name on the back or the name of your favorite player!
The ticket is valid for one visit only on a day of your own choice and time, and can be picked up at our agents address together with your football ticket. By buying your tickets here you will skip the often long line to buy tickets, and start the tour at once you are at camp Nou.
Opening times for the Tour:
Monday to Saturday from 10:00 to 17:30
Sunday and bank holidays from 10:00 to 13:00
Closed match day, day before a Champions League match, 25/12, 1/1 and 6/1
Vorige matches
FC Barcelona vs Atletico Madrid Champions League, DIN, 05 APR 2016
FC Barcelona vs Atletico Madrid Champions League, DIN, 01 APR 2014