Venice
Venice is undoubtedly one of the most beautiful cities in the world with a rich culture and history - and not to forget incredible food. Take a sightseeing tour and see the best of Venice, get an exclusive tour of St. Mark's Basilica or try a unforgettable food and wine tour in the Jewish Quarter.
Toplijst
Sorteer volgens
A - Z
Prijs
Wij raden aan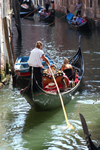 Best of Venice Tour + the Doge's Palace
Our Best of Venice & Doge's Palace tour is perfect for those who don't have that much time in Venice, but wants to experience the city's major highlights. You'll get to see all of the incredible highlights such as the Rialto Bridge and get a tour inside of both St. Mark's Basilica and the Doge's Palace. Book your tour here!
Tevreden klanten
Zeer goed geregeld
"De kaartjes waren makkelijk te bestellen en de bevestiging per mail kwam vlot binnen. De ..."
(147)
Thea, Bruntinge
DON, 30 APR 2015
zie alle
Waarom bij ons bestellen?
1 miljoen verkochte tickets
U betaalt in Euro's zonder verborgen kosten
25 jaar ervaring in de ticketverkoop
100% Veilig Betalen