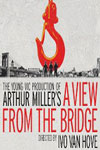 A View from the Bridge
Lyceum Theatre
Prijs vanaf € 114.60
No overweldigende beoordelingen in Londen, komt de veelgeprezen nieuwe kijk op Arthur Millers passionele Brooklyn waterkant drama A View from the Bridge nu naar Broadway.
Hoogtepunten:
- Geniet van de aangepaste versie van Arthur Millers A View from the Bridge
- Krijg de beste zitplaatsen die beschikbaar zijn in de categorie van uw keuze
- Ervaar het 'beste toneelstuk van het jaar'
Winnaar van Best Revival of a Play 2015
Ervaar de award-winning nieuwe productie van A View from the Bridge. A view from the Bridge won in 2015 de Olivier Award voor Best Revival of a Play, Best Actor - Mark Strong (The Imitation Game; Tinker Tailor Soldier Spy) en Best Director en werd uitgeroepen tot 'beste toneelstuk van het jaar' door de Evening Standard, de Guardian en de Indenpendent.
"Een van de beste theater producties in de afgelopen tien jaar." - De Times
"Om te zeggen dat visionair regisseur Ivo van Hove's productie is de beste show in Londen is hetzelfde als zeggen Stonehenge is de huidige beste rock arrangement in Wiltshire." - Time Out
Hoe verkrijg ik tickets?
Kort nadat u uw boeking heeft afgerond, ontvangt u een e-ticket per mail. Print deze uit en breng uw ticket mee naar het theater.