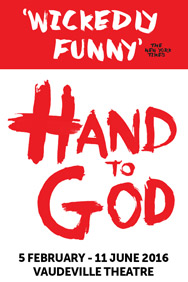 Hand To God
Vaudeville Theatre
Prijs vanaf € 30.20
Een dode vader, een gestoorde familie, een meisje dat alleen maar wil helpen, een school treiteraar, die altijd zijn zin krijgt, een man van de kerk die steun aanbiedt en een handpop die volledig de weg kwijt is - hij is schikkend, gevaarlijk en neemt geen gevangenen.
Hoogtepunten:
- Verzeker uw tickets voor Hand To God
- Kies uw eigen zitplaatsen
- Ervaar "Sesamstraat ontmoet de Duivel"
Hand To God
De hel breekt los in het Vaudeville Theatre als deze hilarische en provocatieve nieuwe komedie direct arriveert vanuit Broadway, waar de New York Times het geprezen heeft met "Goddeloos Grappig" en de New Yorker noemde het "Sesamstraat ontmoet de Duivel."
Boek nu voor het meest opwindende nieuwe stuk dat dit jaar is uitgekomen in America, met sterren als Janie Dee, Neil Pearson, Harry Melling, Jemima Rooper en Kevin Mains.
Een linkerhand kan zeer zeker gevaarlijk zijn.
Hoe verkrijg ik tickets?
Kort nadat u uw boeking heeft afgerond, ontvangt u een e-ticket per mail. Print deze uit en breng uw ticket mee naar het theater.
Hand To God Reviews
"Theatre for the YouTube generation Really - freakish, silly … it's getting my thumbs up It keeps gathering in lunatic intensity until you surrender to its madcap charms"
Daily Telegraph
---
"Full of insight and laughter … socks it to the audience Puppet sex… once seen….It's never forgotten The crowd went wild"
The Times
---
"Terrific cast. Hand To God includes the most raunchy, not to mention protracted, puppet sex scene the West End has ever witnessed."
Evening Standard
---
"Amazing cast, filthy humour and a possessed puppet. What's not to love? Highly recommended."
The Sun
---
"Hand To God finds great hope in new writing… the West End has been looking for something new to love – and we might have just found it."
Gay Times
---
"The funniest and filthiest puppet glove punch-up I've ever seen Avenue Q meet Book of Mormon, with elements of The Exorcist"
WhatsOnStage.com
---