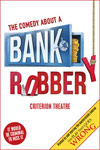 The Comedy About A Bank Robbery
Criterion Theatre
Prijs vanaf € 16.90
Een grote diamant! Acht onbekwame criminelen. En een bewaker die slaapt tijdens zijn werk. Wat kan er nu goed gaan?
Hoogtepunten:
- Krijg uw tickets voor The Comedy About A Bank Robbery
- Kies uw eigen zitplaatsen
- Lach totdat u blauw ziet
The Comedy About A Bank Robbery
The Comedy About A Bank Robbery is geschreven en uitgevoerd door de Mischief Theatre Company, deze heeft ook uitgebracht de in 2015 award-winning Best New Comedy "Play That Goes Wrong" en "Peter Pan Goes Wrong". Boek nu om te genieten van hun unieke manier van humor in deze hilarische nieuwe show.
Het zou misdadig zijn om dit te missen.
Hoe verkrijg ik tickets?
Kort nadat u uw boeking heeft afgerond, ontvangt u een e-ticket per mail. Print deze uit en breng uw ticket mee naar het theater.
The Comedy About A Bank Robbery Reviews
"This is the funniest show in the West End"
The Telegraph
---
"A fast and fabulous comedy caper is a joyful night out"
The Times
---
"The best new comedy to open straight onto the West End in decades"
Time Out
---
"Thrillingly inventive and lung-bustingly funny"
The Guardian
---
"A night of spectacular madness"
WhatsOnStage.com
---
"Laughing all the way to the bank"
Financial Times
---