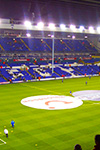 Tottenham - Brighton - Capital One Cup
WOE, 29 OCT 2014, White Hart Lane
Prijs vanaf € 64.00
Info
* De uiteindelijke datum en tijd van de wedstrijd zal 5-30 dagen voor de match worden bevestigd. Bij twijfels, controleer altijd even de officiële website van de club.
*Weekend wedstrijden worden altijd zaterdag of zondag gespeeld. De kans op vrijdag avond is vrij klein.
* Doordeweekse wedstrijden worden altijd gespeeld op dinsdag, woensdag of donderdag.
* Veranderingen van data van wedstrijden zijn buiten onze macht om en we vragen je jezelf hiervan bewust te zijn wanneer je de reisplannen opstelt!
* Je zult NOOIT enkele stoelen krijgen. Te allen tijde zullen wij ervoor zorgen dat je stoelen naast of recht voor/achter je vrienden zult krijgen. Dit garanderen wij naar jou toe!
* Je zult altijd plekken krijgen tussen de thuissupporters of in een neutrale zone.
* Wanneer je de boeking hebt afgerond zullen de bevestiging en e-tickets meteen naar jouw e-mailadres verstuurd worden.
* Alle informatie met betrekking tot het ophalen of laten bezorgen van de originele wedstrijdkaarten staat geschreven op het e-ticket.
* Bij het ophalen van de tickets moet je een geldig legitimatiebewijs meenemen en de Creditcard die gebruikt is tijdens de boeking.
* We raden je ten zeerste aan om zorgvuldig de voorwaarden voor het boeken van voetbaltickets te lezen!


Categorie
No 10 Club Lounge North Stand:
- Lower tier padded seats, North Stand
- Excellent view of the pitch
- Pre-match chef carved substantial deli-gourmet sandwich, with salads
- Served in modern well designed spacious stadium lounge
- Table seating available
- Cash bar(No free drink incl. in package)
- Half time tea/coffee included
- Match program
- Team sheet
- Spurs legend (former player) to visit lounge
- Opens 2 hours prior to kick off, open for 1 hour after final whistle
- Friendly informal atmosphere and families welcome

Lilywhite Lounge West Stand:



- Premium Executive Seats, West Stand, Long Side




- LILYWHITE Lounge Package




- Seats supplied together, always!




- Pre-match chef carved gourmet sandwich buffet with salad bar




- Served in stadium restaurant, direct access from seats




- Half time refreshments (tea/coffee)




- Former Spurs player in attendance ( photo opportunities and autographs )




- Complimentary match program on entry to lounge




- Cash bar available




- Informal seating in restaurant, relaxed atmosphere




- Families and children welcome




- No dress code ( except no opposition football shirts )




- Betting available in stadium



Standard Tickets:
- Long side or Short side tickets

Premium Executive Seats, incl. Pre-match buffet:

- Tickets are always at the North West Corner overlooking Spurs home fans in the famous North Bank.
- Includes a Pre-match buffet served 2 hours before the game in one of the stadiums restaurants.
- Matchday programme.
- Tea, coffee and refreshments.
- Cash bar available at half-time and after the game.
- No dress code(except no opposition football shirts), a relaxed atmosphere and families and children are welcome.

Box Seats Long side:

- Fantastic long side seat position, between edge of penalty box and half way line
- Seat location directly above first tier with clear view to pitch and substitutes bench
- Comfortable wide seats, weather protected as seats are behind expansive panoramic glass
- Access to VIP box holders lounge – ex-players often in attendance
- Drinks available to purchase in lounge
- Team sheets distributed to boxes
- Stadium and VIP lounge open 2.5 hours prior to kick off, until one hour after final whistle
- There is no strict dress casual, but no ripped jeans, or away football shirts – home shirts are allowed.
Vorige matches
Tottenham vs Brighton - Capital One Cup, WOE, 29 OCT 2014