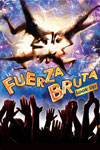 Fuerza Bruta
Daryl Roth Theatre
Prijs vanaf € 49.30
Don't miss the amazing spectacle that is Fuerza Bruta on Broadway when visiting New York. Buy your tickets here for FuerzaBruta on Broadway in New York!
The event FuerzaBruta where worlds collide, dreams become real and reality takes a back seat comes from the creators of the smash hit De La Guarda.
Amongst stunning effects, impressive visuals, performers run and across a vertical technicolor wall of cloth, two people try desperately to connect from opposite sides of a huge spinning and whirling sail, a man runs headlong through a wall, and most spectacular of all, performers dance in a watery world just above the audience´s head.
And all of the above takes place to the rhythm of a soundtrack that touches on all sorts from thumping club beats to chilled out new world music.