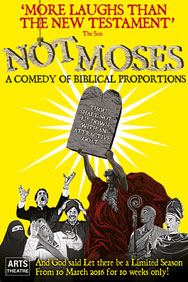 NotMoses
Arts Theatre
Prijs vanaf € 31.00
Don't miss the hilarious new play, NotMoses, when it makes its world premiere at the Arts Theatre from 10 March 2016. This wildly irreverent new comedy runs for a strictly limited 10-week season.

Highlights:
- Secure your tickets to NotMoses
- Choose your own seats
- Get a great laugh

Experience NotMoses
Set in Ancient Egypt, NotMoses is the story of a crying baby who is plucked from his basket by a Princess only to be dumped back in the Nile when she sees a nicer baby, Moses. NotMoses grows up a disgruntled slave whilst Prince Moses studies accountancy at Pharaoh's court. When both men are forced to flee into the Sinai desert, they make kebabs on the burning bush before the Good Lord himself orders them to lead the Jews out of bondage and into a land full of cows and bees. Eventually, it's the alluring Miriam – a woman! – who leads the Exodus.

NotMoses is an important work that answers the question that has troubled mankind throughout the ages: Does oral sex constitute adultery? Destined to end up in a drawer in every hotel room in the world, there's only one play in town where you can experience the wonder of the ten plagues (even if they are mainly offstage).

How do I get my tickets?
Shortly after your booking is complete, you will receive an e-ticket by email. Please print out your ticket and bring it with you to the theater.
NotMoses Reviews
"More biblical daftness than a plague of top-dancing locusts. Get thyself to the Arts"
Official London Theatre
---
"Full of spectacle"
WhatsOnStage
---
"Utterly irreverent, eye-wateringly funny – packed full of one-liners, visual gags and running jokes"
OughtToBeClowns
---