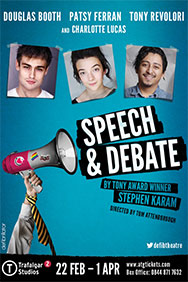 Speech and Debate
Trafalgar Studio Two
Prijs vanaf € 55.10
'A triumph...hilarious, cliché-free, and immensely entertaining...' New York Times Defibrillator presents the UK Premiere of this fiercely funny play by Tony award winning playwright Stephen Karam.

They may go to the same high school, but misfits Solomon, Diwata and Howie have never met and their peers just don't take them seriously…. until a sex scandal involving one of their teachers brings them together.

By creating a Speech and Debate team they finally have a chance to be heard, but will they be able to get their interpretive dance version of The Crucible ready in time for the big day?! A hilarious play that grapples with serious modern social issues - homophobia, teenage alienation and the limits of online privacy - directed by Tom Attenborough.

Variety says it's 'bristling with vitality, wicked humour, terrific dialogue and a direct pipeline into the zeitgeist of contemporary youth.'

From the writer of the wildly successful The Humans, this New York Times Critics pick is the first play from Pulitzer Prize finalist, Stephen Karam, to be staged in the UK.