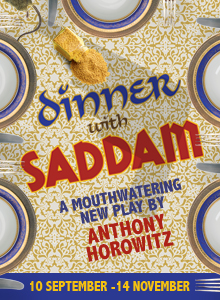 Dinner with Saddam
Menier Chocolate Factory
Prijs vanaf € 55.10
So what happens when Saddam Hussein turns up on your doorstep and announces he is staying for dinner?
Political and personal issues are top of the menu, but behind the kitchen door something else far more sinister is cooking…
This is the world premiere of Anthony Horowitz 's new comedy. Anthony is a hugely successful and prolific writer. He is the author of over 40 books including the best-selling Alex Rider series, the recent Sherlock Holmes novels, The House of Silk and Moriartyand the forthcoming James Bond novel Trigger Mortis. For TV he has written for Midsomer Murders and also created Foyle's War. Steven Berkoff is going to be starring in Dinner With Saddam. It also stars Sanjeev Bhaskar.