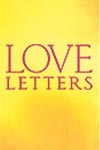 Love Letters
Brooks Atkinson Theatre
Prijs vanaf € 155.10
Love Letters is a disarmingly funny and unforgettably emotional portrait about the powerful connection of love. Book your tickets here!

Two friends share fifty years of friendship through countless letters—from grade school valentines to romantic missives, they express their hopes and fears, loves and loses. But long after the letters are done, the real question remains: Have they made the right choices or is the love of their life only a letter away?

See your favorite stars including Brian Dennehy, Mia Farrow, Carol Burnett, Alan Alda, Candice Bergen, Stacy Keach, Diana Rigg, Anjelica Huston, Martin Sheen and so many more brilliant talents to be announced.

Please note: Above stars are not playing all the period nor at the same time in Love Letters in New York.