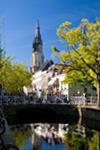 Delft & The Hague
Prijs vanaf € 49.00
Visit the city of Delft, where the famous Dutch pottery originates and get a tour of The Hague.

Highlights:
- 5.5 hour guided tour of Delft and the Hague
- Experience a 'Delft blue' pottery factory
- Get a tour of The Hague and see the Peace Palace

Visit Delf and The Hague
The tour begins with a visit to a 'Delft Blue' pottery, where you get the chance to admire the hand painted Delftware. Afterwards you get approx. 30 min. to explore Delft. before we head on to our tour of The Hague, the seat of the Dutch goverment. From there we have a short walk over to the 'Binnenhof', the houses of parliament and the political center of Holland. On the tour you also get to see the Peace Palace (only from the outside).

The tour is available in English, German and Spanish.
How do I get my tickets?
Shortly after your booking is complete your e-ticket will be send directly to your email, just print it out and bring it on your tour.

Where does the tour begin?
The tour starts at the Lindbergh Excursions office. Please show up 30 minutes before departure.

How long does the tour last?
The tour lasts 5.5 hours.
Are there children's tickets?
Yes, children's tickets are available for children between age 4-12. Children from age 0-3 are free, when accompanied by a paying adult.